"Agile" offers many variations including Feature Driven Development (FDD), Dynamic Systems Development Method (DSDM), Crystal Clear, Extreme Programming (XP), and of course Scrum and Kanban.  Scrum and Kanban are the most prevalent with aspects of XP built-in.  Bridgility Agile Transformation Leads and Coaches are experienced practitioners with a passion for Customer Centricity (voice of the customer, journey mapping, etc.), Design Thinking, and using the right mix of practices, processes, methods, and frameworks for your organization.  We will work with you to design a strategy that is right for your organization to facilitate your journey to transform the way you do business; fund and build products; and implementing Portfolio, Program, and Team concepts & practices.  This strategy will include a highly scalable Agile Framework that is sustainable for long term Enterprise and Market agility.
"Agile is easy.  Implementing Agile is hard".  No doubt about it!  There is no silver bullet in achieving Agility, but we believe that our approach to Agile & Digital Transformation positions our customers for success.  Our model harnesses Strategy, Structure, and Systems coupled with the Agile Mindset embodied through courage, commitment, and effective communications.  Contact us to learn more about our "S3C To Agility" model for meaningful Agile & Digital Transformation.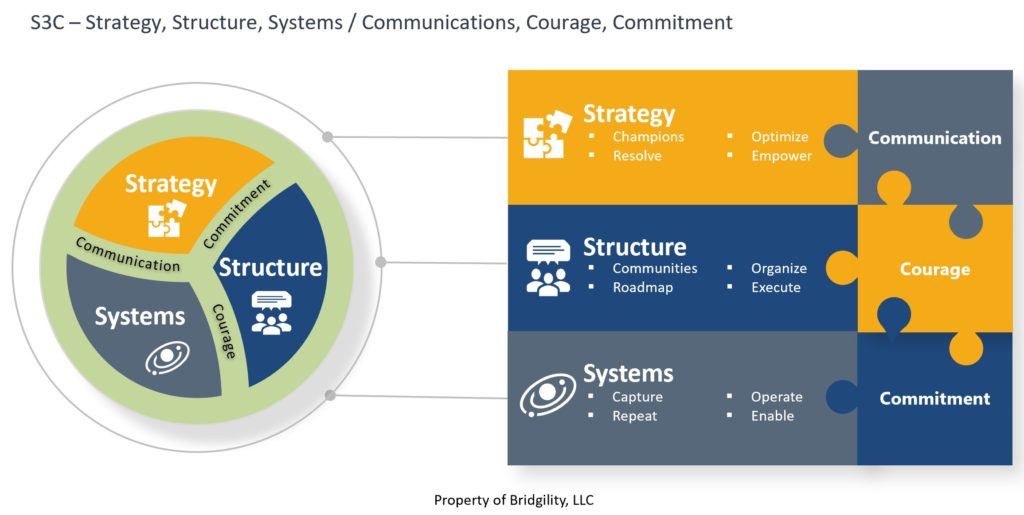 Agile Transformation – Transformation, by definition, is complex and not easy.  Bridgility Coaches and Transformation Leads will help you develop an approach that will play well within your organizational and business processes.  Agile is grounded in embracing change!  This is foundational for successfully achieving Enterprise Agility.  Bridgility has developed a base framework that your Agile Leadership Team (ALT) will use as a starting point to define, inspect, and adapt to your organizational needs.  As with most successful endeavors, the framework developed will continuously evolve to ensure currency and adaptability to changes within the enterprise.  Our Agile Strategists will work with you define a strategy, formulate an operational structure, and implement systems to support your transformation.
Agile for Technical Teams – Bridgility uses our own approach of strategy, execution, and coaching for technical teams – Software, IT Operations, and Hardware Manufacturing.  This defined process is the same for all three disciplines, but has unique characteristics for each.  Depending on the organization and needs we may leverage frameworks such as SAFe, Scrum at Scale, LESS, etc. or a light-weight framework that is customized to your needs.  Regardless of the framework, we typically blend in Kanban, Scrum, and Xtreme Programming.  Regardless of the method and/or framework combination, Bridgility uses our own approach to building the Agile Mindset for technical teams anchored around our S3C model.  This approach is presented below.  Reach out to us for a conversation on how we can help you and your teams, programs, and portfolios.

Agile for Business Teams – Bridgility also uses our own approach to strategy, execution, and coaching for business teams.  Our approach is defined, yet flexible and adaptable, to specific business operations such as Strategy, Finance, Call Centers, Sales/Capture/Contracts, Servicing, Claims, HR, and other business operations.  We find that Kanban or Scrumban (Kanban and specific Scrum practices combined) work best for most, but Scrum is also especially valuable for certain operational functions such as Proposal development and submission.  Our approach is depicted below.

For business teams, Bridgility uses a slightly modified approach by folding in "Foundational" training and concepts integrated with the "Adopt" and Transforms" stages.  We do this to accommodate shorter cycles of business activities with time built-in for business teams to attain an Agile Mindset around the Strategy, Structure, and Systems to be implemented.  The Engage, Discover, and Foundation stages are sequential so as to set the stage for the implement, inspect, and adapt iterative nature of the Adopt and Transform stages.  At any given point of the transformation journey, there will be teams in any one of these stages until all teams identified in the Strategy have moved to a state of being agile.  Business Agility is a higher state of being, where all portfolios, programs, and teams within the organization (including the way senior leadership works), attains a state of being agile.  Reach out to us for more information on how we can support your organization's needs.
Agile Coaching – A typical Agile Coaching engagement with Bridgility will encompass coaching multiple Product Owners, Scrum Masters, and Scrum Teams; coaching individuals on the team, Executives, Managers, and Business SMEs; advising in the implementation of Best Practices and Communities of Practice (CoP); and helping teams establish a cadence for optimal outcomes leading to success.
Agile Training – Looking to learn Agile concepts, a refresher, or best practices for integrating Agile in the enterprise?  Visit our "Training" page for details on our training on Agile Methodology.